Population: 98.39 million (2013)
Capital: Manila
Area: 115,831 mi²


About Philippines
The Philippines, officially the Republic of the Philippines, is a sovereign island country in Southeast Asia situated in the western Pacific Ocean. It consists of about 7,641 islands that are categorized broadly under three main geographical divisions from north to south: Luzon, Visayas, and Mindanao. The capital city of the Philippines is Manila and the most populous city is Quezon City, both part of Metro Manila. Bounded by the South China Sea on the west, the Philippine Sea on the east and the Celebes Sea on the southwest, the Philippines shares maritime borders with Taiwan to the north, Palau to the east and Malaysia and Indonesia to the south.
The Philippines' location on the Pacific Ring of Fire and close to the equator makes the Philippines prone to earthquakes and typhoons, but also endows it with abundant natural resources and some of the world's greatest biodiversity. It is the seventh-most populated country in Asia and the 12th most populated country in the world. As of 2013, approximately 10 million additional Filipinos lived overseas, comprising one of the world's largest diasporas. Multiple ethnicities and cultures are found throughout the islands. In prehistoric times, Negritos were some of the archipelago's earliest inhabitants. They were followed by successive waves of Austronesian peoples.[22] Exchanges with Chinese, Malay, Indian, and Islamic states occurred. Then, various nations were established under the rule of Datus, Rajahs, Sultans or Lakans.


Currency
The Philippine Peso is the currency of Philippines. The currency code for Pesos is PHP, and the currency symbol is ₱. It is subdivided into 100 centavos. The Philippine coins and banknotes are minted and printed at the Security Plant Complex of the Bangko Sentral ng Pilipinas (Central Bank of the Philippines) in Quezon City.


Climate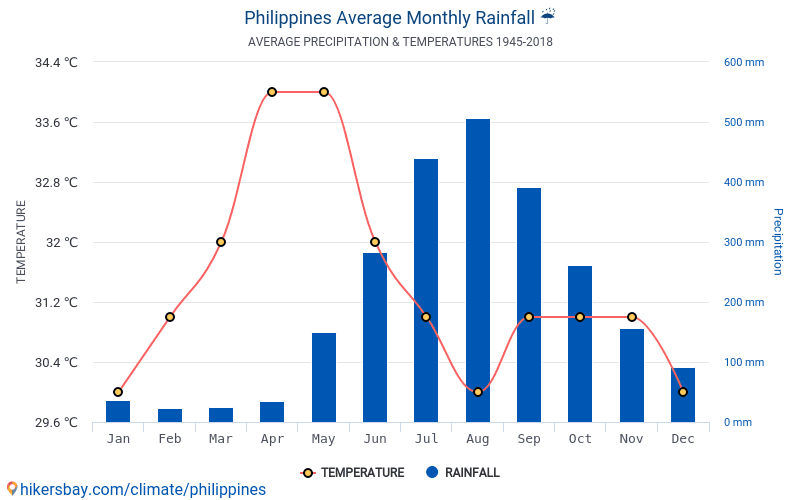 The Philippines has a tropical maritime climate that is usually hot and humid. There are three seasons: tag-init or tag-araw, the hot dry season or summer from March to May; tag-ulan, the rainy season from June to November; and tag-lamig, the cool dry season from December to February. The southwest monsoon (from May to October) is known as the Habagat, and the dry winds of the northeast monsoon (from November to April), the Amihan. Temperatures usually range from 21 °C (70 °F) to 32 °C (90 °F) although it can get cooler or hotter depending on the season. The coolest month is January; the warmest is May.
The average yearly temperature is around 26.6 °C (79.9 °F). In considering temperature, location in terms of latitude and longitude is not a significant factor. Whether in the extreme north, south, east, or west of the country, temperatures at sea level tend to be in the same range. Altitude usually has more of an impact. The average annual temperature of Baguio at an elevation of 1,500 meters (4,900 ft) above sea level is 18.3 °C (64.9 °F), making it a popular destination during hot summers.


Language
Filipino and English are the official languages of the country. Filipino is a standardized version of Tagalog, spoken mainly in Metro Manila and other urban regions. Both Filipino and English are used in government, education, print, broadcast media, and business. However, most people outside cities do not speak much English. In most towns, the local indigenous language is spoken. The Philippine constitution provides for the promotion of Spanish and Arabic on a voluntary and optional basis, although neither are used on as wide a scale as in the past. Spanish, which was widely used as a lingua franca in the late nineteenth century, has since declined greatly in use, but is experiencing revival due to government promotions, while Arabic is mainly used in Islamic schools in Mindanao. However, Spanish loanwords are still present today in many of the indigenous Philippine languages.


Economy
The Philippine economy is the 33rd largest in the world, with an estimated 2016 gross domestic product (nominal) of $310.312 billion. Primary exports include semiconductors and electronic products, transport equipment, garments, copper products, petroleum products, coconut oil, and fruits. Major trading partners include the United States, Japan, China, Singapore, South Korea, the Netherlands, Hong Kong, Germany, Taiwan, and Thailand.
A newly industrialized country, the Philippine economy has been transitioning from one based upon agriculture to an economy with more emphasis upon services and manufacturing. Of the country's total labor force of around 40.813 Million, the agricultural sector employs 30% of the labor force, and accounts for 14% of GDP. The industrial sector employs around 14% of the workforce and accounts for 30% of GDP. Meanwhile, the 47% of workers involved in the services sector are responsible for 56% of GDP.
The unemployment rate as of 14 December 2014, stands at 6.0%. Meanwhile, due to lower charges in basic necessities, the inflation rate eases to 3.7% in November. Gross international reserves as of October 2013 are $83.201 billion.[319] The Debt-to-GDP ratio continues to decline to 38.1% as of March 2014 from a record high of 78% in 2004. The country is a net importer but it is also a creditor nation.


Health

Drink the readily available bottled water. Buko (young coconut) juice is also safe if they have not added local ice to it. Be wary also of Buko juice vendors, some usually just add sugar to water. Buy and eat fruit that has not already been cut up. Cooked food from a karenderia (outdoor canteen) is okay if there is a fire under the pots and the food has been kept hot. If you must drink tap water (it is usually served/contained in a small to medium plastic bag), water in Manila, Cebu City and other major cities, but it is recommended that you boil tap water for at least 5 minutes just to be safe. Elsewhere drink bottled water.
CDC advises that risk of malaria exists in areas below 600 meters, except for the provinces of Aklan, Bilaran, Bohol, Camiguin, Capiz, Catanduanes, Cebu, Guimaras, Iloilo, Leyte, Masbate, northern Samar, Siquijor, and Metro Manila. Chloroquine is no longer a recommended malaria preventative for anywhere in the Philippines. In general malaria is not common in the Philippines compared to Africa and the rest of mainland Southeast Asia, and around half of the c. 40,000 annual cases are in a couple of discrete locations. Dengue fever is common in the Philippines and cases rise every year, so it is advisable to apply anti-mosquito repellents and wear long sleeved clothes whenever possible. Rabies is also common among street animals in the country, so get a vaccination for rabies if you haven't already, and if you're traveling with children, vaccinate them as soon as possible as they are of high risk of getting rabies because they tend to play more with animals.
Tuberculosis is very common in the countryside, so try to avoid individuals who cough or look weak and be careful about staying too long in villages that may be high in contagious people.
Over the last five years the rate of new HIV cases in the Philippines has been going up by over 30% per year. By the end of 2015 there were 30,356 people who knew they had HIV in the Philippines. The Philippines Department of Health has said by the end of 2022 there could be 133,000 people living with HIV in the Philippines. So it pays to take precautions. There are now over 30 HIV treatment Hubs around the Philippines which provide free antiretroviral drugs. Other sexually transmitted diseases are more common than HIV.


Education

The Philippines has a simple literacy rate of 95.6%, with 95.1% for males and 96.1% for females. The Philippines has a functional literacy rate of 86.45%, with 84.2% for males and 88.7% for females in 2008. Education spending accounts for 16.11% in the proposed 2015 national budget.
The Commission on Higher Education (CHED) lists 2,180 higher education institutions, 607 of which are public and 1,573 private. Classes start in June and end in March. The majority of colleges and universities follow a semester calendar from June to October and November to March. There are a number of foreign schools with study programs. A 6-year elementary and 4-year high school education is mandatory with an additional two years being added in 2013.


Safety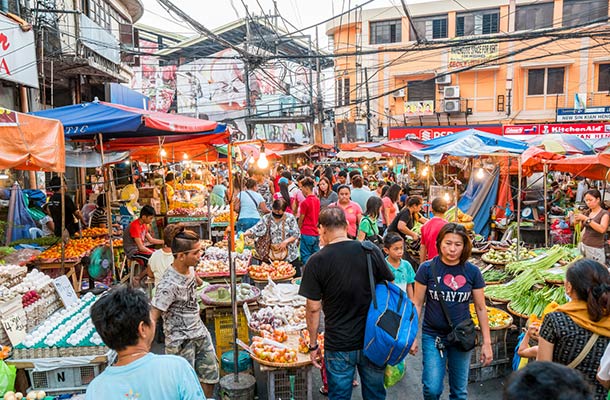 Use common sense when travelling to and around the Philippines, as with traveling to other developing nations. It is wise to have Filipino friends as they will give you genuine advice on how to get by. Although the people of these islands are generally friendly and accommodating, one must be aware of the prevalence of poverty (especially in big cities) and the things that, unfortunately, come with it. You must not flash your valuables (especially expensive smartphones) because they pose a pickpocketing threat. Carry small change and don't flash large bills. Pickpockets are common in the big cities. Manila is not a place for violent robbery, but the ativan scam is common practice. Don't expect any reprisal from the police and must also sometimes be wary of them as they can be easily bribed and might be entangled in their own scams. Do not enter alleyways and remote areas at night.
Both Christian and Muslim areas of Mindanao have traditionally been home to organized criminal groups. Groups active in the drug and weapons trade, gambling or armed robberies aren't very likely to harass tourists. However, kidnappings especially in Muslim Mindanao regularly occur. Drive-by shootings are very common in Muslim Mindanao as well, and as of the 2010's rebels and criminal groups are resorting to more drive bys than kidnappings. So be careful being out in public, as these drive bys happen in broad daylight than at night.


Culture

Philippine culture is a combination of Eastern and Western cultures. The Philippines exhibits aspects found in other Asian countries with a Malay heritage, yet its culture also displays a significant number of Spanish and American influences. Traditional festivities known as barrio fiestas (district festivals) to commemorate the feast days of patron saints are common. These community celebrations are times for feasting, music, and dancing and the Moriones and Sinulog festivals are a couple of the most well-known. Some traditions, however, are changing or gradually being forgotten due to modernization. The Bayanihan Philippine National Folk Dance Company has been lauded for preserving many of the various traditional folk dances found throughout the Philippines. They are famed for their iconic performances of Philippine dances such as the tinikling and singkil that both feature clashing bamboo poles.


Cuisine

Philippine cuisine has evolved over several centuries from its Malayo-Polynesian origins to become a mixed cuisine with many Hispanic, Chinese, American, and other Asian influences that have been adapted to local ingredients and the Filipino palate to create distinctively Filipino dishes. Dishes range from the very simple, like a meal of fried salted fish and rice, to the elaborate, such as the paellas and cocidos created for fiestas. Popular dishes include lechón, adobo, sinigang, kare-kare, tapa, crispy pata, pancit, lumpia, and halo-halo. Some common local ingredients used in cooking are calamondins, coconuts, saba (a kind of short wide plantain), mangoes, milkfish, and fish sauce. Filipino taste buds tend to favor robust flavors, but the cuisine is not as spicy as those of its neighbors.
Unlike many of their Asian counterparts, Filipinos do not eat with chopsticks; they use Western cutlery. However, possibly due to rice being the primary staple food and the popularity of a large number of stews and main dishes with broth in Philippine cuisine, the main pairing of utensils seen at the Filipino dining table is that of spoon and fork, not knife and fork. The traditional way of eating with the hands known as kamayan (using the washed right hand for bringing food to the mouth) was previously more often seen in the less urbanized areas. However, due to the various Filipino restaurants that introduced Filipino food to people of other nationalities as well as to Filipino urbanites, kamayan fast became popular. This recent trend also sometimes incorporates the "Boodle Fight" concept (as popularized and coined by the Philippine Army), wherein banana leaves are used as giant plates on top of which rice portions and Filipino viands are placed all together for a filial, friendly and/or communal kamayan feasting.


Getting Around
The transportation infrastructure in the Philippines is relatively underdeveloped. This is partly due to the mountainous terrain and the scattered geography of the islands, but also the result of consistently low investment in infrastructure by successive governments.
The Philippine National Railways (PNR) currently operates two overnight intercity services: the Bicol Express between Manila and Naga, Camarines Sur, which resumed on June 29, 2011 after a five-year absence, and the Mayon Limited between Manila and Ligao in Albay. Additional services are expected in the future as the rehabilitation of the PNR network progresses. Train service is comparable to (or slower than, due to delays) buses in terms of speed, but is more comfortable owing to the use of donated Japanese coaches for the service. The Bicol Express and Mayon Limited are NOT non-stop services: from Tutuban, Manila's main train station, the train calls at several points in Metro Manila, Laguna, Quezon and Camarines Sur before arriving in Naga (and Albay before arriving in Ligao for the Mayon Limited). It is possible to travel between any two points served by the services, and fares are distance-based. Children under three feet may travel for free.
Taxis are generally available within the major cities but are usually not used for travel across the various provinces and regions. Some FX (shared taxis), however, usually ply provincial routes. You can also call reputable Taxi companies that can arrange pickups and transfers as well as airport runs.
Buses are usually the cheapest way to go when it comes to traveling around the Philippines. Provincial bus companies have scheduled trips from Manila to provinces to the north and south.
Jeepneys are the most known transportation to all Filipinos. They are the most affordable transport in the Philippines. Costing about ₱7 per 4 km and additional ₱1 per km, they are by far the most affordable way to get around most major urban areas. They stop if you wave at them. The jeepney is remnants of the Jeep used by the American troops during World War II, the innovative Filipinos modified the jeep (by lengthening the body and adding horizontal seats) to seat as many as 20 people (10 per side). Within Manila, you will find multiple Jeepneys per route, for added convenience. In the provinces, Jeepneys also connect towns and cities. For longer distances, however, buses are more comfortable.